Offer in e-shop All4roping.com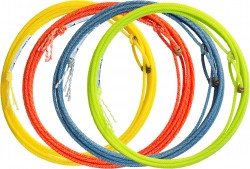 Fast Back Ropes was created in 1995 with a single mission in mind – to build the best rope on the market. That will always be our number one goal. We believe it's important to focus on building the best product possible, and treat customers as with the respect they deserve. That philosophy has served us well as we are enjoying rapid growth.
Quality has always taken precedence at Fast Back and is achieved largely due to the employees, many who have been with Fast Back most of the 21 years we've been in business. Many employees rope and, along with our endorsees, provide invaluable feedback on our products.
When Fast Back introduces a new rope, be assured that it has undergone rigorous testing in multiple conditions. The variety of ropes we offer is to accommodate ropers in every climate and humidity situation. Due to the type of string used, some ropes will outperform in warm and dry weather conditions, whereas others hold up best in cooler weather. With a "McDonald's menu" of ropes, we have something that will fit most every roper.