e-Shop for Team Roping - Calf roping - Breakaway roping
Welcome to E-shop All For Roping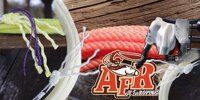 We are targeted on all levels roper. We specialized for training roping tools. We offering best training tools possible to find on roping market company with long experienced with training tools company HELL O MATIC TRAINING SYSTEMS. Company offer best training tools on the roping market. We offering also Team roping ropes for headers and heelers. Calf roping ropes. From the top brand on the roping market. Fastbackropes, Top Hand ropes and Lonestar ropes.
Offer in the e-Shop
We import Team roping ropes directly from the manufacturers, which guarantees top condition and features required from the ropes. We cooperate with top manufacturers in the field of Fastback ropes, Top Hand Ropes, Lone star ropes.

Training tools for Team Roping, Calf roping, Breakaway roping from static dummies to Top training tools simulating real cattle movement that will take your skills to another level.

Accessories for Team roping and Calf Roping. Gloves, rope bags, clothing and other equipment for the rider. Equipment for horses - halter, cinch and boots.
News in e-shop:
What is roping? History of roping and company Fast Back
Calf Roping derives from an actual practice used by vaqueros and cowboy hands, requiring them to catch and restrain calves for medical purposes, or for branding. Cowboy hands not only took pride in their speed of restraining calves but also started to place small bets and have contests. The process involves throwing a rope with a loop (known as a lariat or lasso) over the head and onto the neck of the calf (or sometimes on the horns), and also around the hind legs. This procedure was highly popular in the early days of rodeo, and is one of many events in today's rodeo that stemmed from the actual duties of the earliest cowboys.

The origins of team roping date back to the 18th century when Spanish caballeros worked on ranches. Cowboys developed this technique when they handled larger animals that one man couldn't handle alone.Team roping also known as heading and heeling is a rodeo event that features a steer (typically a Corriente) and two mounted riders. The first roper is referred to as the "header", the person who ropes the front of the steer, usually around the horns, but it is also legal for the rope to go around the neck, or go around one horn and the nose resulting in what they call a "half head". 

Fast Back Ropes was created in 1995 with a single mission in mind – to build the best rope on the market. That will always be our number one goal. We believe it's important to focus on building the best product possible, and treat customers as with the respect they deserve.