Calf Roping(tie-down Roping)
Views count: 4182
Calf roping in modern competition Calf roping, also known as tie-down roping, is a rodeo event that features a calf and a rider mounted on a horse. The goal of this timed event is for the rider to catch the calf by throwing a loop of rope from a lariat around its neck, dismount from the horse, run to the calf, and restrain it by tying three legs together, in as short a time as possible. A variant on the sport, with fewer animal welfare controversies, is breakaway roping, where the calf is roped, but not tied.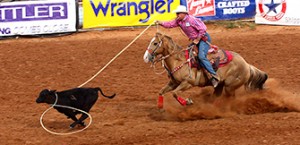 The calves are lined up in a row and moved through narrow runways leading to a chute with spring-loaded doors. When a calf enters the chute, a door is closed behind it and a lightweight 28-foot (8.5 m) rope, attached to a trip lever, is fastened around the calf's neck. The lever holds a taut cord or "barrier" that runs across a large pen or "box" at one side of the calf chute, where the horse and rider wait. The barrier is used to ensure that the calf gets a head start. When the roper is ready, he or she calls for the calf, and the chute operator pulls a lever opening the chute doors and releasing the calf. The calf runs out in a straight line. When the calf reaches the end of the rope, that trips the lever, the rope falls off the calf, and the barrier for the horse is released, starting the clock and allowing horse and rider to chase the calf.
Chute 9 at Cheyenne Frontier Days for timed events
Timing is critical. From a standstill, a rider will put his horse into a gallop from the box shortly after the calf leaves the chute, so that the horse saves valuable seconds by being at near-full speed the moment the barrier releases. However, if the rider mistimes his cue to the horse and the horse breaks the barrier before it releases, a 10-second penalty will be added to his time. This is sometimes referred to as a "Cowboy Speeding Ticket."